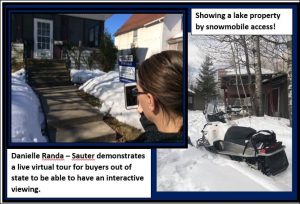 A couple of weeks ago, Danielle Randa-Sauter, one of our Johnson Hometown Realty experts and our Associate Broker, posted on Facebook about an unusual lake home showing she had participated in. The listing had a nearly half mile long driveway that had not been plowed all winter, so she and her buyers took snowmobiles in to view the property (which they liked very much, BTW).
This morning Danielle demonstrated another way we go the extra mile for our clients at Johnson Hometown Realty. A buyer living in Texas is very interested in a home located in the area, but they are unable to get up here to view it in person at this time. Danielle met friends of the buyer at the listing this morning and used FaceTime to give the buyers a real time virtual tour of the property inside and out with the friends present to help explain to the buyer exactly what they were seeing!
Four feet of unplowed snow? Not a problem!  Thousands of miles of distance? Piece of cake!  Whatever it takes to provide great service for our clients is what we are committed to do here at Johnson Hometown Realty!!!
Knowledgeable, Dependable, Professional
218-263-4411