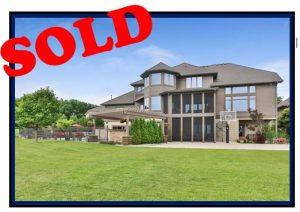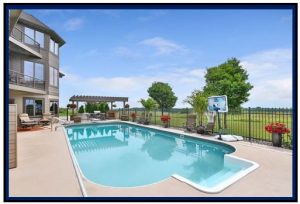 There are many advantages to working in the real estate industry.  Without question, the best part of this job is helping people realize their dreams. Buying and selling real estate is generally a pretty big deal for our clients, and assisting them with the process is very satisfying for us.  Seeing all kinds of nice, well-kept homes up close and personal is another perk that we enjoy.  Our office just passed a milestone of sorts as we recently closed on the first million dollar plus home that we have been involved in this year. This home is in Chaska, and working all the way down there is unusual, but the buyers know and trust us so they asked if we would represent them in their purchase.
Eight bedrooms, 6 baths, 6894  square feet of spectacularly finished living space, a large hot tub, a beautiful in-ground pool, 3 fireplaces, and much more all located on the first fairway of the Chaska Town Course golf course made this property well worth the just over $1,000,000 price paid.  We did some driving and put in some time, but it was a lot of fun seeing this home and helping our friends make it their own!
If you are looking for representation in purchasing property locally or elsewhere in Minnesota,  get in touch with one of the experts here at Johnson Hometown Realty – We would love to help you make your dreams come true!!  218-263-4411.