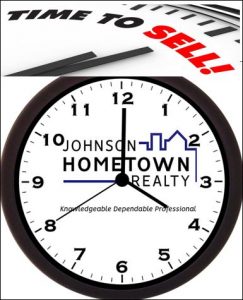 In real estate the clear answer is a definite "sometimes."  But when it comes to listing property for sale, the answer is a resounding "no." The best time to put property on the market is simple – list it as soon as you are ready to sell it. It is true that certain periods have more activity than others – Home buyers are generally busiest from April until mid-October, but we are working with a bunch of buyers right now; Lake shore sales are most common from around the first of May through the 4th of July, but I have closed on lake homes in December and January; And recreational property is most popular from mid-August through the end of deer season, but we are in the process of putting together a purchase agreement on 40 acres of prime hunting property right now.
The point to remember is this:  Yes, more home buyers will be in the market in May than there are now in February, however, there will be lots more homes listed then, too. More buyers, but much more competition. And remember, YOU DO NOT NEED A WHOLE BUNCH OF BUYERS TO GET YOUR PROPERTY SOLD, YOU ONLY NEED ONE. And if you wait for May to list, and if the right buyer is looking now, you will miss that buyer.
So if you have real estate you want to sell, now is the right time to contact Johnson Hometown Realty (218-263-4411) and get that home/land/lake shore on the market and in front of buyers!!  Remember any time that you would like to ask questions, explore options, or simply start a conversation about any real estate transaction, give us a call.  We are always open!