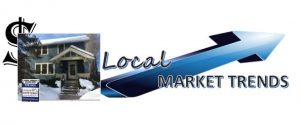 As of today, March 31, we are already 1/4 of the way through 2018.  From a weather perspective, it is hard to call this a great year so far, but from a real estate point of view, it has been terrific!!  Inventory in just about all areas and price ranges is solid.  Interest rates are up a bit, but still favorable (See our most recent Blog post.)  And buyers are active in most all segments of the market.
Following are some numbers from selected areas as of the end of March.
Residential Homes
City                              # listed                     # sold since 1/1/18
Hibbing                           81                                       28
Chisholm                        23                                        11
Mt. Iron/Buhl                 13                                          7
Virginia                            45                                        21
Aurora/HL/Biwabik       39                                         12
Waterfront residential – Currently listed – 229 (All areas)  Sold since 1/1/18 – 24.
These are strong numbers indicating high real estate activity for this area during this time of year, and things are likely to pick up dramatically as the weather warms up.  What these numbers mean for local sellers is this:  "Don't miss out!  If you have something to sell, get it listed today!!"  For help, for answers to your questions, and/or to list real estate of any kind, contact one of our Johnson Hometown Realty experts today!!  218-263-4411.