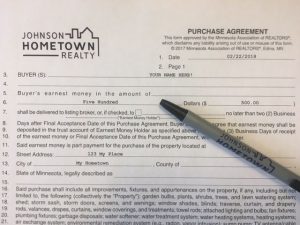 The final step in the buying process is our topic for today – Buyer Tip #4 – Writing an Offer!!
A)  Plan on spending 60-90 minutes with your Johnson Hometown Realty expert, especially if you have not written an offer recently.  We want to be thorough and explain all of your options to you so that you know exactly what you are signing and exactly what the process involves.  B)  If you have not yet done so, have your lender forward a copy of your pre-qualification letter to your agent to be included with the offer.  C)  There are several things you need to know prior to writing the offer. Here is a partial list: 1)  How much do you intend to offer?  2) How soon would you like to close on the property? (take possession) 45 days or so is typical.  3)  What type of financing will you be using?  4)  Will you be asking the seller to assist you with your closing costs?  And if so, how much will you be asking for?  5)  How much of a down payment will you be making?  6)  What personal property, if any, will you be asking for?  7)  Exactly whose names are going on the purchase agreement?  (We will need full legal names of each person involved.)  D)  Finally, be prepared to have an earnest money check made out to the listing company to accompany your offer. This is typically made out for $500. to $1000.  These funds are part of your offer, it is not extra money…
Four tips for buyers that will help to make your next property purchase painless!!  Call us ANYTIME with questions of any kind about real estate!!!   218-263-4411.