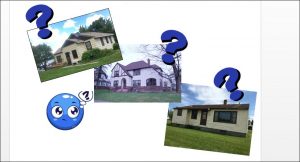 To keep purchasing property as simple, easy, and low-stress as possible, a buyer should follow 4 simple tips.  Tip #1 was to become pre-qualified through a lender. Tip #2 was to learn what is available that meets your needs and fits into your budget. (See our previous blog posts for details.)
Today property buyer's tip is Tip #3 – Viewing Suggestions. Going to visit homes/cabins/properties in person can be the most exciting and enjoyable parts of the real estate process!  To keep it fun rather than frantic, follow these suggestions:  A)  Give your Realtor at least a day or two notice ahead of your preferred tour time.  Appointments need to be asked for and approved, renters/owners need to be contacted, and your agent no doubt has a busy schedule, too. (But at Johnson Hometown Realty we ALWAYS do our best to accommodate your needs.)  B)  Wear slip on shoes. Sellers don't want us tracking water or mud into their homes, and slip ons are quicker and far more convenient for you.  C) Kids….We love kids!!  And they can accompany us on showing tours, but you will need to keep them with you and away from the sellers things to avoid any damage to the property or injury to your children.  Also, it is much easier for you to focus on the features of a home if you do not have to focus on your kids throughout the showing.  D)  Be efficient.  Keep moving.  We typically plan on 15-20 minutes per home on our first visit.  Make the first look a preview and plan to go back later for a second look at any home you really like.  E)  We have found it helpful for buyers to take notes on the property spec sheets during viewings and then to organize those sheets into 3 folders – 1 folder of homes you really like, 1 folder of homes you aren't sure about but that may work, and 1 folder of those homes you wouldn't live in if they were given to you for free (and there will be homes in each of those categories if you look at more than a few…) This will make it easier for you to identify the properties you want to take a more careful, second look at, and it will help you remember which homes you have already viewed.
Watch for Tip #4 – Writing An Offer – coming to a blog post near here soon!!