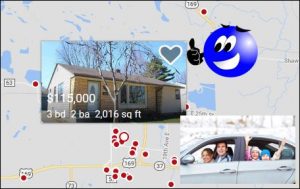 The process of buying property can be difficult, complicated, scary, and stressful…..BUT it does NOT have to be any of these things. To make the property purchasing process go smoothly, follow these 4 simple tips:
Tip #1)  Get pre-qualified through a lender. This process and the reasons for it are covered in a previous blog – "Why Should I Pre-Qualify?" – and in the "Financing" section of the "Buyer" tab of the Johnson Hometown Realty homepage.  After you you have been pre-qualified, it is time to begin actively looking for your new home/cabin/building lot or recreational property.
Tip #2) is our topic for today:  Learn What Is Available in your Price Range and in the Areas you are Most Interested in.  A) Use the "Search Listings" or "Search" link on the homepage of  Johnson Hometown Realty to check on everything currently listed for sale that may fit your needs. B) Contact one of our Johnson Hometown Realty experts and ask to receive an automatic e-mail every time a new property comes on the market or is reduced within your parameters.  C) Begin doing drive-bys to check on the neighborhood, distance, exterior etc of those properties that appear interesting to you. D) Call your Johnson Hometown Realty expert to set up a tour of those properties you think you may like.
Watch for Tip #3 – "Viewing Suggestions" – coming in the next couple of days…..