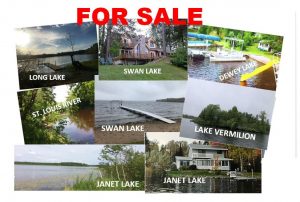 Everybody knows lake shore homes never sell in the winter…Or do they???  Our office has put together 4 deals on nice lake homes in the past 3 weeks, and we have some other buyers currently looking.  If you are interested in checking out any lake homes listed through the Range or Itasca MLS, call our office at 218-263-4411 anytime, and we will get you the information you need and set the showing appointments you want!
FYI The Range MLS currently has 14 Residential Lake homes/cabins listed under $100,000, 16 more between $100,000 and $150,000, 32 more between $150,000 and $200,000, as well as 139 more listed over $200,000.  Don't miss out!!  Call today!!
Johnson Hometown Realty  www.JohnsonHometownRealty.com  218-263-4411.
P.S.  Lake shore owners who are thinking about selling may want to consider getting in on this early activity as well….