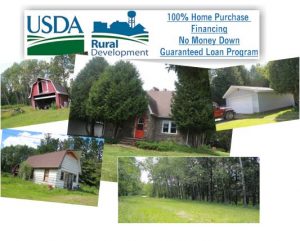 Home financing translated into English that even a normal person can understand…Part Four.
Over the past 3 weeks we have blogged about FHA, DVA, and Conventional financing options.  We have tried to explain the basics of each of these loan programs, and what advantages and disadvantages each one offers.  We have also emphasized the fact that a good, experienced lender is your best asset as you try to figure out which of these will work best for you. There is, however, another option, the USDA Rural Development Loan,  that will work well for some buyers…
While "Top Secret" may be overstating it a little bit, this program is certainly the least known of the available mortgage choices.  These are zero-down-payment mortgages guaranteed by the USDA for eligible rural and suburban home buyers.  They are most often used by borrowers who are having trouble getting traditional funding.
The primary advantages of a USDA Rural Development loan are:  No down payment, up to 6% seller concessions towards buyer closing costs, modular and manufactured homes may be eligible, and no lot size restrictions.
The main disadvantages include:  Geographic restrictions  (for example, property with a Hibbing zip code is NOT eligible), Mortgage insurance is required, there are certain income limits, and only single family, owner occupied homes are allowed.
As was stated earlier, there are many home loan options and much information to consider about each one.  Don't be intimidated!!  Work closely with a good lender and find a program that suits your needs and fits your situation!!  A big Thank You to Alyssa Amic Shega of Fairway Mortgage for her input on this subject…
Next up, Renovation Loans...